Forklift Tines, Seats & Accessories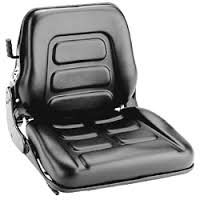 Semi Suspension Forklift Seat and Seat Belt - Universal Fit
Semi Suspension Forklift Seat and Seat Belt - Universal Fit
A forklift is built up of a plenty of forklift parts. Greater than the course of years, a number of parts will exhaust and require replacing, whilst others will necessitate updating. After that there are the fresh forklift tines you will put in on to add to the forklift security or performance. We provide all our customers a varied range of these parts.
Prior to you begin your search for forklift parts and accessories on our site; it's a good thought to primary ask yourself a query: Do you just require a part or else parts or do you require a service also? The reply should be obvious. It's better to acquire the time to come across a corporation that can assist you with all your requirements rather than merely a business that can trade you a few objects.
For instance, you may require forklift tyres for an aged forklift. Since you are of opinion of selling it in the near future, you will be content enough with a second-hand part. You can hit upon second-hand forklift parts in our site easily. You can purchase them from us for the reasonable price. We provide our customers in Melbourne, Perth, Sydney, Brisbane all types of parts for forklift. We have second hand parts as well as new parts for our customers, whichever they choose for their machines.
Substitute forklift seats are a fine instance of forklift parts which are not readily obtainable from all other online dealers because they are rare parts of the forklift. If you are searching for a fresh forklift seat, you will frequently find no more than one brand or style obtainable from a forklift accessories or parts website. When you come across a solo website that presents dozens of diverse forklift substitute seats, you make out you have got a website that can assist you with each of your requirements. And we can easily fulfil your wish.
The other forklift parts a customer will require in excess of the years will consist of substitute reverse beepers,forklift cage, lights, horns, and objects that didn't arrive standard on your forklift, but perk up its security and competence. A number of these consist of retractable seat belts as well as seatbelt switches that put off the machinist from starting the forklift until and unless he has fixed firmly in his seatbelt.
As soon as you add together all of it, it turns out to be obvious that you could do with to find a starting place for each and every one of your forklift accessories, forklift parts and forklift attachments. This is twice as correct if you have a task force of forklifts. You as well require finding someone who is on familiar terms with all the most recent developments in equipment handling expertise that can assist you make your procedures more competent. All these things can be available to you from our services. You can search our site and get all the required accessories along with the services for your forklift to service it to run for some years more.