Forklift Attachments And Accessories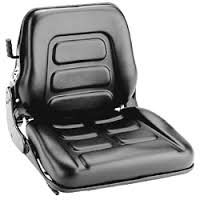 Semi Suspension Forklift Seat and Seat Belt - Universal Fit
Semi Suspension Forklift Seat and Seat Belt - Universal Fit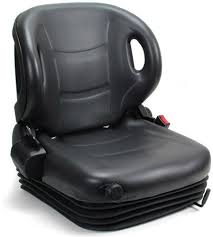 Universal Fit -Full Suspension
Universal Fit -Full Suspension- Wingback Seat with Seat Belt and Micro Switches

High-quality Forklift Attachments for Sale in Melbourne
Want to increase the functionality of your forklift?
Having multiple attachments with your forklift will expand the possibilities of your forklift to do more. Find the latest and most needed
forklift attachments at Lift Truck Brokers
. In our experience of over 25 years, we have done in-depth research on the variety of attachments and accessories that will help our forklifts be more productive and versatile.
Read More

At

Lift Truck Brokers

, we specialise in supplying a significant variety of forklift attachments that can be conveniently installed on many different forklift manufacturers' makes and models. We intend to provide complete material handling solutions with forklift attachments for sale. We are a trusted, reliable and preferred forklift sellers in Melbourne and offer hiring options too. We have the most productive and needed forklift attachments to lift loads, hoppers, seats, tines, and many other extensions that the industry has to offer.

We supply and install quality forklift attachments in Melbourne for sale at highly competitive prices. Our experienced staff know all about the various parts and attachments needed for different jobs and will guide you to make the right choices.

Talk to us today! If you can't find what you need, give us a call with your requirements, and we'll be glad to offer you the right solution at great prices.

A Broad Spectrum of Forklift Accessories in Melbourne

Lift Truck Brokers specialises in a range of forklift parts, forklift attachments, forklift accessories, and forklift safety materials, providing easy access through our online platform to all our customers to everything you need for your forklift in one place. You can explore the many options available along with the prices. We offer the most versatile collection of forklift accessories and deliver them across Australia.

Forklift Tines
Forklift Seats
Bin Tippers & 360 Degree Rotators
Fork Positioners
Weight Gauges
Fork Extensions
Job Forklift Attachments
Clamps, Paper Roll Clamps, And Carton Clamps
Safety Cages

Lift Truck Brokers has a team that you can rely on to organise hassle-free forklift accessories and attachments for purchase. We can arrange the shipping of your forklift accessories, parts and any equipment promptly and efficiently. Besides, we arrange for Australia-wide delivery. Forklift attachments for sale are available in Melbourne, Brisbane, Sydney and Perth. Give us a call at

(03) 9775 0277

or see our available forklifts for hire and accessories on our website.

Forklift Attachment FAQ's

1. What are forklift attachments?

A forklift attachment is an add-on modification to the standard equipment that will enhance or affect the forklift's capacity to carry, its stability, and increase versatility in its operation. To carry heavy loads, lifting devices can be attached. Many forklift attachments, available with Lift Truck Brokers, are safe for operation while extending the forklift's productivity. It does not hamper the machine's capacity as well.

2. What must you check before using an attachment on a forklift?

Many forklift attachments are designed to be used for safe operation. However, it is advised to ensure that you are well-versed with the safety guidelines provided before using an attachment on a forklift.

General checks that need to be done using an attachment on a forklift are:

Ensure that the attachment fits the make and model of the forklift and is designed for the particular forklift's capacity and type of load to be lifted.
Make sure to ensure the safety locking of the attachment before the beginning of every operation.
The forklift's attachment guidelines allow for such attachments.
Frequently Asked Questions (FAQ)
What are the types of forklift attachments?
There are varying types of forklift attachments that you can use to facilitate the better operation of your forklift. These include:
Bale Clamp Attachments
Drum Clamp Attachments
Paper Clamp Attachments
Hook Forklift Attachments
Forklift Lift Jib Attachments
Rotating Fork Attachments
Forklift Bucket Attachments
Load Stabiliser Attachments
Carton Clamp Attachments
Push And Pull Forklift Attachments
Each of these forklift attachments in Melbourne has different use cases. Based on your requirements, you can choose the right attachment for the right forklift and make your forklift operations a lot easier. Make sure you also consult with your forklift operator as they will have a better understanding of how these attachments can help them.
What are the benefits of forklift attachments?
Forklift attachments or forklift accessories have a variety of benefits. They can facilitate easier handling of material in a much more efficient manner. Not only can forklift attachments enable you to significantly reduce your forklift operating hours, but they can also help you to move the product safely and provide a significant level of convenience when it comes to managing the containers. When you purchase the right attachment, the amount of money and time you can save tends to add up over time giving you a good return on investment. Each attachment can upgrade your forklift operating capacity without burning a hole in your budget.
Where to Shop for Used Forklift accessories & attachments?
If you want quality forklift attachments for sale, then Lift Truck Brokers has exactly what you need. We source a wide number of forklift attachments in Melbourne so that your operators can expand the possibilities of the operating capacity of your forklift. With over 25 years of experience, we specialise in providing a large variety of different types of forklift attachments that are quite easy to install and can enable your forklifts to be a lot more productive and versatile. If you need quality used forklift accessories, then simply reach out to us and our experienced staff will help you find exactly what you are looking for.